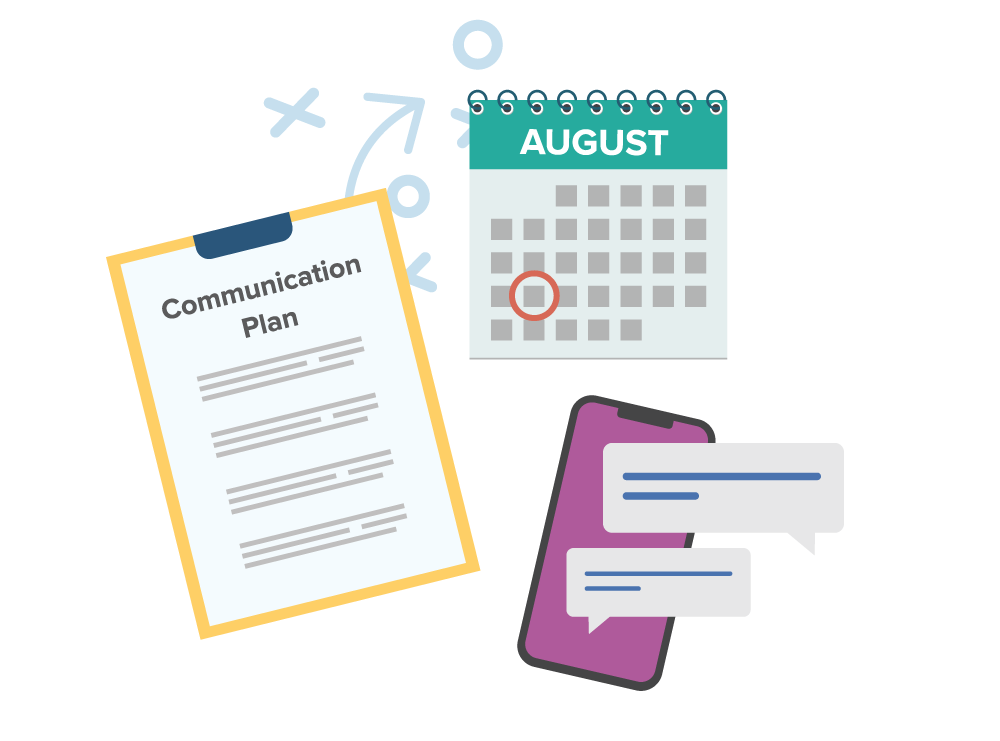 School principals play a crucial role in setting the tone and establishing effective communication within the school community. Clear and consistent communication is vital for fostering a positive and collaborative environment among students, teachers, staff and families. Summer break is a great time to think about your current communication practices and how they can be improved in the new school year.
In this blog post, we will share valuable tips and strategies to enhance your back-to-school communication efforts, ensuring a successful start to the academic year.
Develop a comprehensive communication plan for the year
Begin by developing a comprehensive communication plan that outlines your strategies and goals for the year. Consider the different stakeholders involved, including students, families, teachers and staff. Identify the communication channels you will utilize, such as your communications platform, newsletters, social media and in-person meetings. Think about the cadence of your communications – how often to send each communication to each group – and your timing. Consider creating a rough timeline for the year that will guide when you send certain communications like back-to-school night, open house, scheduled breaks, state testing, etc. A well-defined plan will provide guidance and ensure that your communication efforts are purposeful and consistent.
Leverage technology for communication
Embrace technology tools to enhance communication efficiency and effectiveness. Digital tools can help facilitate quick and convenient communication, ensuring important messages reach the intended recipients in a timely manner. While you don't have the ability to choose your district's communication platform, you can set a good example for your team by learning the tool. You could even work with district communication and technology leaders to hold a training session for your teachers to help them embrace the technology.

ParentSquare offers multiple ways to communicate and allows you to specify exactly who should receive the message. Whether it is by individual student or parent, by roles, or designated groups within your district or school – it's easy to deliver pertinent information to families and staff without overwhelming and cluttering up inboxes.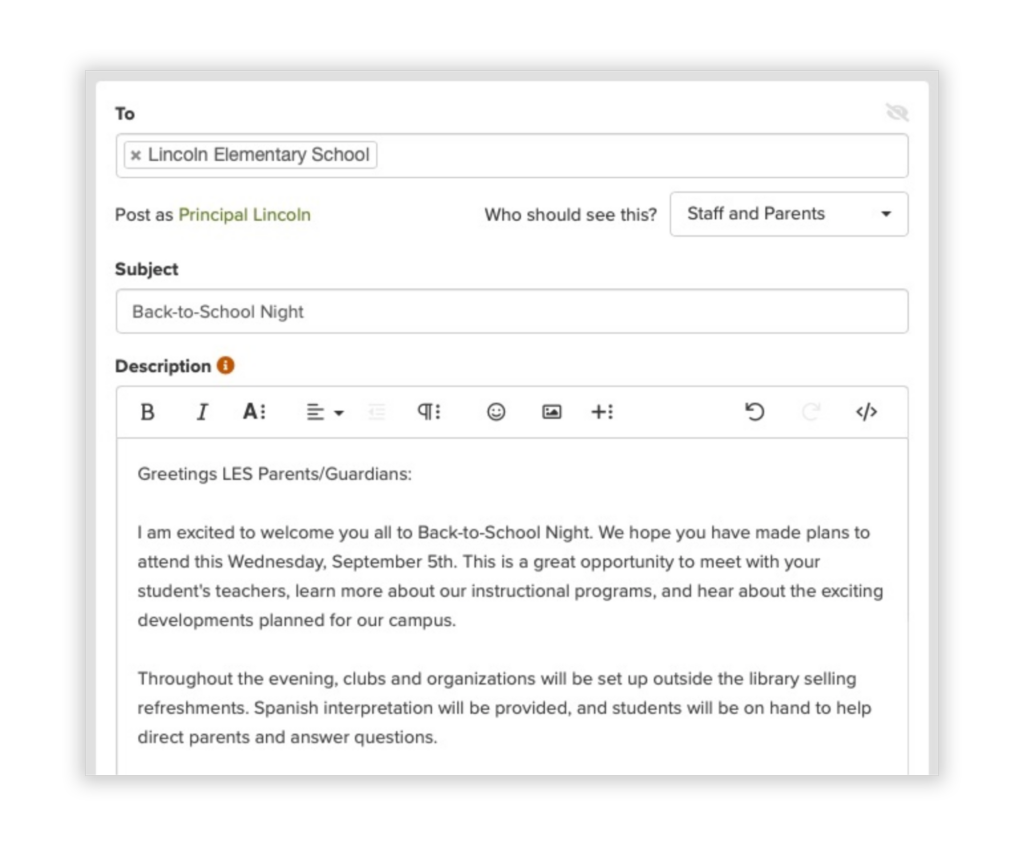 Conduct back-to-school meetings for your stakeholders
Organize back-to-school meetings for teachers, staff and families to create a platform for open dialogue and collaboration. Use these meetings to share important updates, school policies and goals for the year. Encourage questions, feedback and suggestions from attendees, making them feel valued and heard. These meetings foster a sense of community and lay the foundation for a productive school year.

PRO TIP! Take it even further by hosting a back-to-school fair where community organizations can also provide resources for families. Our friends from Alexandria City Public Schools in Virginia host an event similar to this each year and include school supply giveaways as well as booths to support families with completing forms and downloading the ParentSquare app.
Encourage two-way communication
Promote a culture of two-way communication by actively seeking feedback and input from all stakeholders. Provide avenues for feedback through surveys, suggestion boxes or designated in-person open forum times. Actively listen to concerns, ideas and suggestions, and demonstrate responsiveness in addressing them. When individuals feel heard and respected, they become more invested in the success of the school community.

ParentSquare makes two-way communication with families easy! Conveniently message a parent/guardian privately or start a group conversation – all with two way translation to ensure you reach every family with the same message.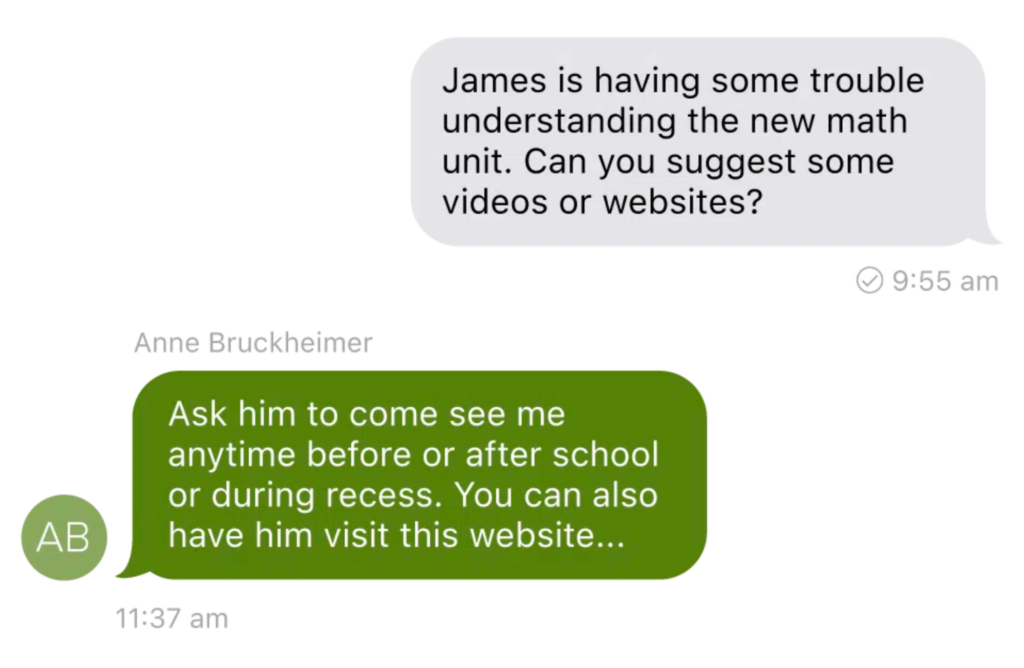 Build connections with families
Develop strong partnerships with parents and guardians by involving them in their child's education. Encourage parental involvement through parent-teacher association (PTA) meetings, volunteer opportunities, and workshops. Regularly update families on upcoming events and opportunities for involvement. Building strong connections with parents and guardians establishes a supportive network and reinforces the shared goal of academic success.
Celebrate achievements and events
Communicate and celebrate achievements, events and milestones within the school community. Highlight student accomplishments, teacher recognition, and notable school activities through newsletters, social media posts or bulletin boards. Recognizing and showcasing the efforts and successes of students and staff builds a sense of pride and fosters a positive school culture.

Showcase student stories and how your team is creating a positive school culture by adding photos and videos to your communications! With ParentSquare, you can create engaging and visually appealing messaging that can be pushed to connected social media platforms in one easy click. Newsletters can also be created directly in the platform, so there are no email lists to keep track of or update and no coding to figure out.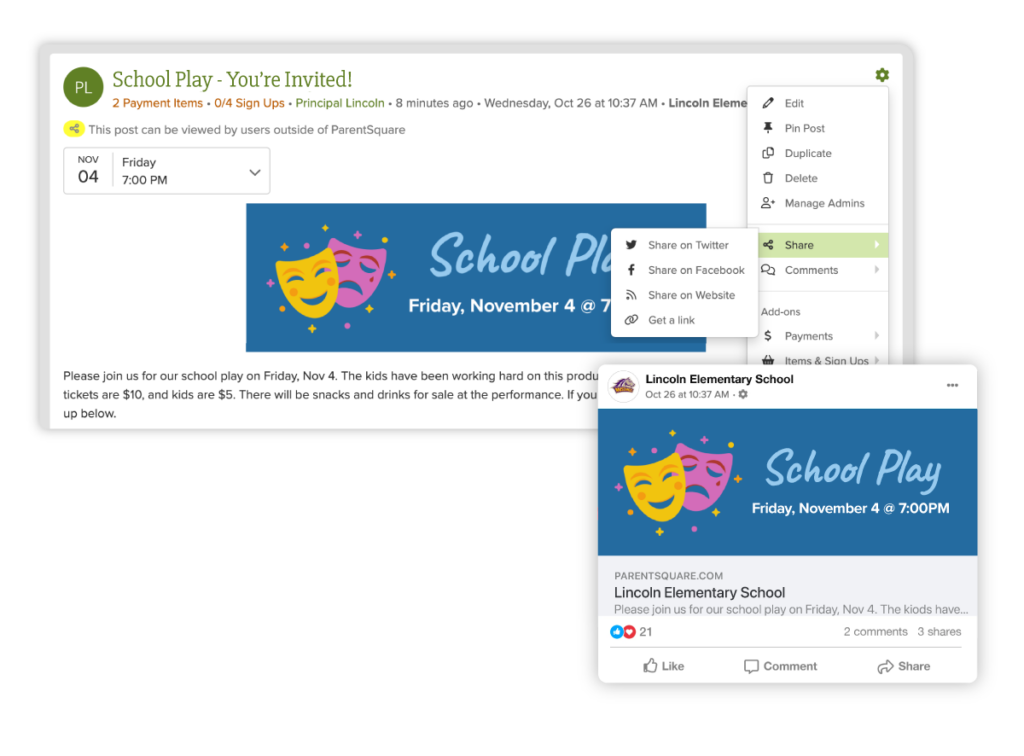 As a principal, effective communication is fundamental to creating a positive and thriving school community. By implementing these tips and strategies, you can establish clear lines of communication, strengthen relationships and foster a collaborative environment among students, families, teachers and staff. Remember, open and transparent communication sets the stage for a successful academic year and enables everyone to work together towards the common goal of educational excellence.
---
ParentSquare is here to help you prepare for a successful school year. Learn more about these features and many more by booking a demo today!