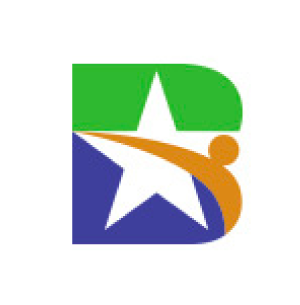 Texas District Streamlines School-to-Home Communications with ParentSquare
Case Study: Brenham Independent School District (TX)
Challenge
School-home communications were inconsistent, unsecure and handled by various applications for which this rural district had little or no oversight.
Solution
The district is using the ParentSquare safe and secure school-home communications platform across seven different campuses.  
Results
Teachers have a simplified, accountable way to communicate with parents, roughly 50% of whom take advantage of the platform's translation capabilities, thus ensuring equitable access to communications.
When Brooke Trahan came onboard as Brenham ISD's communications coordinator in 2022, she immediately recognized the gaps in the district's approach to school-home communications. Of biggest concern to this former teacher and parent was how she had to use School Messenger plus email, phone calls and social media—all of which had to be handled separately—to get important messages out to recipients. 
"Communications were inconsistent and the usability wasn't friendly because everyone was coming to me to get everything up and running," Trahan said. "I was moving from School Messenger to email to phones, and then having to open up a whole different tool to set up social media alerts." She then had to move to an entirely different platform to set up website alerts.
Trahan wasn't in her new position very long when she started thinking about a better, more streamlined way to manage school-home communications. After meeting with the district's webmaster about adding communication capabilities to Brenham ISD's existing website, Trahan remembered that a Finalsite sales rep had previously suggested she check out the ParentSquare safe and secure school-home communications platform. 
"When our webmaster decided that he didn't want to change the website software for this year, I met with 12 different communication platform providers," Trahan explained. "ParentSquare was the platform of choice."
ParentSquare Made the Most Sense
According to Trahan, ParentSquare made the most sense for Brenham ISD for several reasons. It would help the district eliminate teachers' use of Remind. "There's no oversight in Remind. If the parent files a grievance or issue of any kind, we had no way to verify the validity," Trahan said. "If you're relying on someone's personal screenshots with the digital applications in this world, that can all be easily manipulated."
ParentSquare also gave the district auto-notifications for attendance, a way for teachers to track which parents did (and didn't) open their messages, and a direct integration with an existing student information system (SIS).
Working closely with Brenham ISD's IT systems coordinator, Trahan got the new school-home platform up and running quickly. "Our systems coordinator told me this was one of the smoothest software implementations she'd ever handled," Trahan added.
A Valuable Asset for Teachers
When teachers place a note in a student's backpack they never really know whether that note will make it home or not. "My child is a quintessential example of how they'll grab their open backpacks and run out to the car," Trahan said. ParentSquare closes this communication gap by tracking the delivery and opening and viewing the process—all of which can be tracked by the teacher. 
"If you want a quick check to make sure something's going home, you can filter the messages by 'declined,' 'bounced' or some other criteria," Trahan explained, who also likes how the school-to-home communications platform "talks" to Brenham ISD's SIS. Once a student is added to the SIS, that information is reflected in ParentSquare within 24 hours or less.
"ParentSquare is also retroactive, which means all of the feed that's on the activity prior to that student's enrollment is visible to parents so they can quickly catch up on important topics and issues," Trahan said. And while opening up lines of two-way communication is great, having the data and analytics behind the campus numbers is "huge," she said, particularly when it comes to contactability (the percentage of messages and communications that make it through to the intended recipients).
"When I presented a ParentSquare update to our school board recently, I pulled up a screenshot of our current dashboard to show the aggregate views of contactability across the district," Trahan added. "It revealed that all of our campuses are now over 90% contactability and most of them are at 98%."
"When I presented a ParentSquare update to our school board recently, I pulled up a screenshot of our current dashboard to show the aggregate views of contactability across the district. It revealed that all of our campuses are now over 90% contactability and most of them are at 98%."

Brooke Trahan
Communications Coordinator
Weathering the Storm
School districts deal with numerous unexpected challenges and roadblocks on a daily basis. No exception to that rule, Brenham ISD recently found itself grappling with an electrical transformer that was put out of service by a major storm in the area. All of the lights went out at one of its elementary schools, leaving the campus with no Wi-Fi, phones or backup generator.
"Everything went down," Trahan recalled . Because the school's principal had the ParentSquare mobile app on her phone, she was able to quickly send out a mass alert to all staff members and parents. The message got out quickly and everyone was able to take the appropriate action—all while the school had no other contact points with the outside world. 
ParentSquare also provides reports that can be downloaded, including those relating to attendance and illness. "For me as a parent, that is huge," Trahan said. 
"My child was sick the other day and the platform was already populated with her legal name, student ID, campus and date that she was absent," she continued, "All I had to write in was that she was home sick with a fever and that she would remain home for 24 hours, per school policy."
A Huge Win for Equitable Communications

ParentSquare has given Brenham ISD's teachers a powerful tool for communicating with non-English speaking parents or those for whom English is not their first language. Teachers or administrators can write notes in their native language and then have the communications translated into the receiver's native language.
"Our elementary school has a high number of  Spanish-speaking students; when a teacher hits 'View Original' it shows them what was translated," Trahan explained. "Our county's population is about 50% Hispanic, so our ability to consistently communicate to that community—which is the same size as our English-speaking population—has been a huge win for us."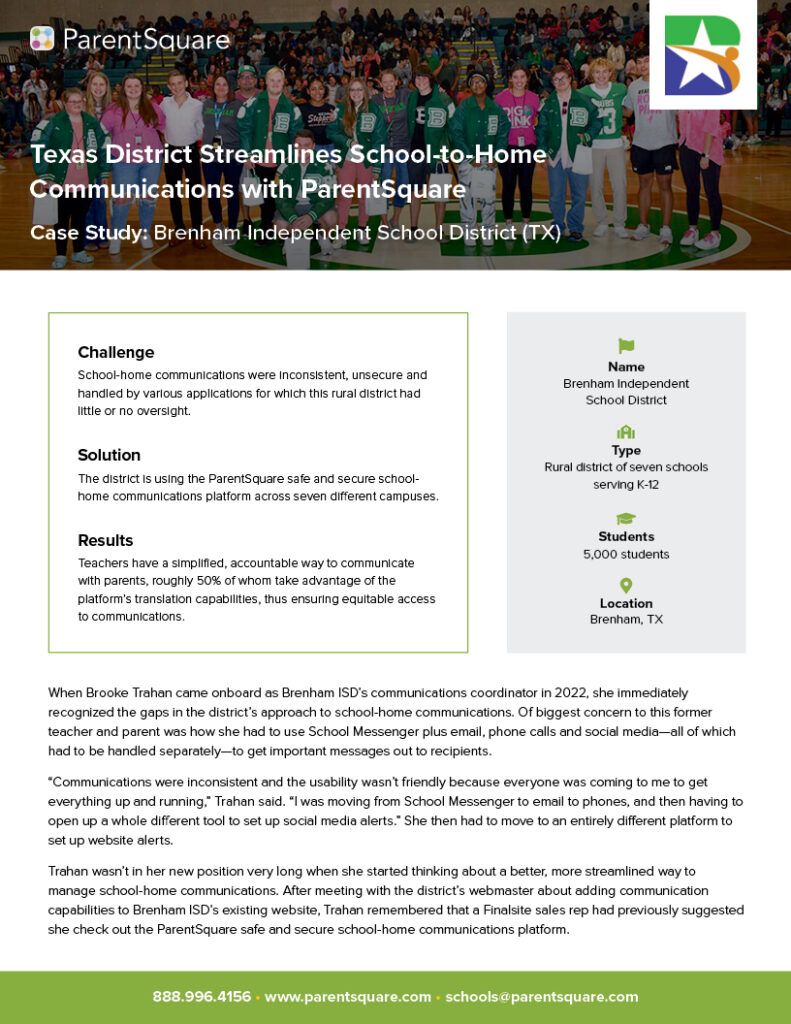 Enter your email address below to download a PDF of the case study.