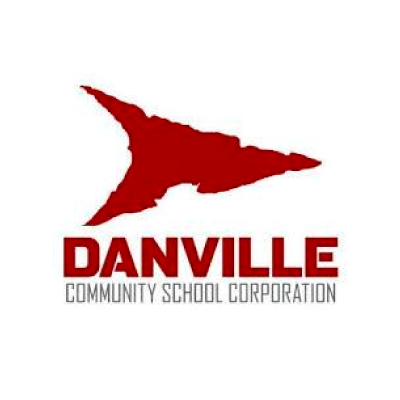 Indiana school district expands reach and oversight after implementing ParentSquare with StudentSquare for two-way communications
Case Study: Danville Community School Corporation (IN)
Up until 2020, Danville Community School Corporation was using its student information system (SIS) to manage its school-to-home communications. With four school sites and 2,500 students, the Indiana school district was limited to using plain text for those interactions and was unable to easily customize messaging with eye-catching fonts, graphics or photos.
"All we could do was one-way, plain text in an email or text message," says Ashton Brellenthin, Communications Coordinator. "The voice feature was automated and quite robotic."
Wanting a better solution for the district, which was moving to 1:1 computing and becoming more technologically advanced, Brellenthin looked around at the various communication platforms available on the market. After evaluating all of them, she selected the ParentSquare all-in-one school-home communications platform, which the district started using during the summer of 2020.
"ParentSquare fits the direction the district is heading in terms of being more interactive with our parents," says Brellenthin, "and to also keep up with the times."
All in One Place
Being able to bring all communications onto a single, unified platform was another big selling point for the district. Prior to using ParentSquare, staff members were using their own cell phones and applications to communicate with students. With no administrative oversight into the use of these applications, this solution was neither safe nor secure for staff members and students alike. "We really wanted to move our policy in a direction that protected our students and staff," says Brellenthin.
With ParentSquare, the district can easily access all of the communication that takes place on the platform, making it a safer choice for districts and schools. ParentSquare even archives all interactions for up to five years, providing an added layer of protection for all parties involved. "If a student or parent comes forward with a different take on an actual communication that took place, we have everything we need to point to and say, 'Yes, this is what happened' or  'No, this is not what happened,'" Brellenthin explains. "It's safer for everyone."
Putting Out Fires
With the district's previous system, teachers and staff were limited to using plain, basic alerts that were sent out via text or email. "Our SIS has a more dated appearance," Brellenthin says, "so ParentSquare opened the doors to doing much more with our family-directed communications."
It also pushed more parents to open their emails and texts, namely because those communications were easier to read and engage with. "I enjoy sending them more because I know they look so much better," she says. "This, in turn, has definitely improved the way we communicate with our families."
For example, Brellenthin can add images to messages. "If we look at our social media analytics, the posts that had images on them are the ones that had the most reach," she points out. "It's probably the same with direct communication with parents."
She also likes being able to review private comments on posts—something that wasn't available with the district's previous setup. "If we sent parents a message that they didn't like, they'd never take the time to call the school to ask questions about it," says Brellenthin. "They would just go on social media to vent."
ParentSquare has helped shift that venting over to a more private forum that Brellenthin can monitor and respond to in a timely manner. "ParentSquare has really been a game-changer because I can turn on comments on a post and let parents get everything out there," she explains. "I'm the only one who sees it, so I can respond quickly, help them, and put the fire out at the same time."
"ParentSquare fits the direction the district is heading in terms of being more interactive with our parents, and to also keep up with the times."

Ashton Brellenthin
Communications Coordinator
Opening New Doors
Danville Community School Corporation also uses the connected StudentSquare app with its middle school (starting in 5th grade) and high school students. It provides a safe and secure platform for all student communications at school and became necessary when a revised district policy required staff members to use a school-sanctioned platform to communicate with students. 
The district is also using ParentSquare with its athletic coaches, who couldn't use its previous communication system. "They're now included in ParentSquare and can use the platform for their communications," says Brellenthin, who particularly likes the platform's user-friendly interface and how it's helped bring the district's school-home and on-campus communications into the modern era.
"Even when someone needs help using the platform, ParentSquare's online help articles offer an incredible wealth of information. They cover everything you can think of," Brellenthin points out. "Plus, the responsiveness of ParentSquare's customer service team is really impressive; I can't say enough good things about the platform."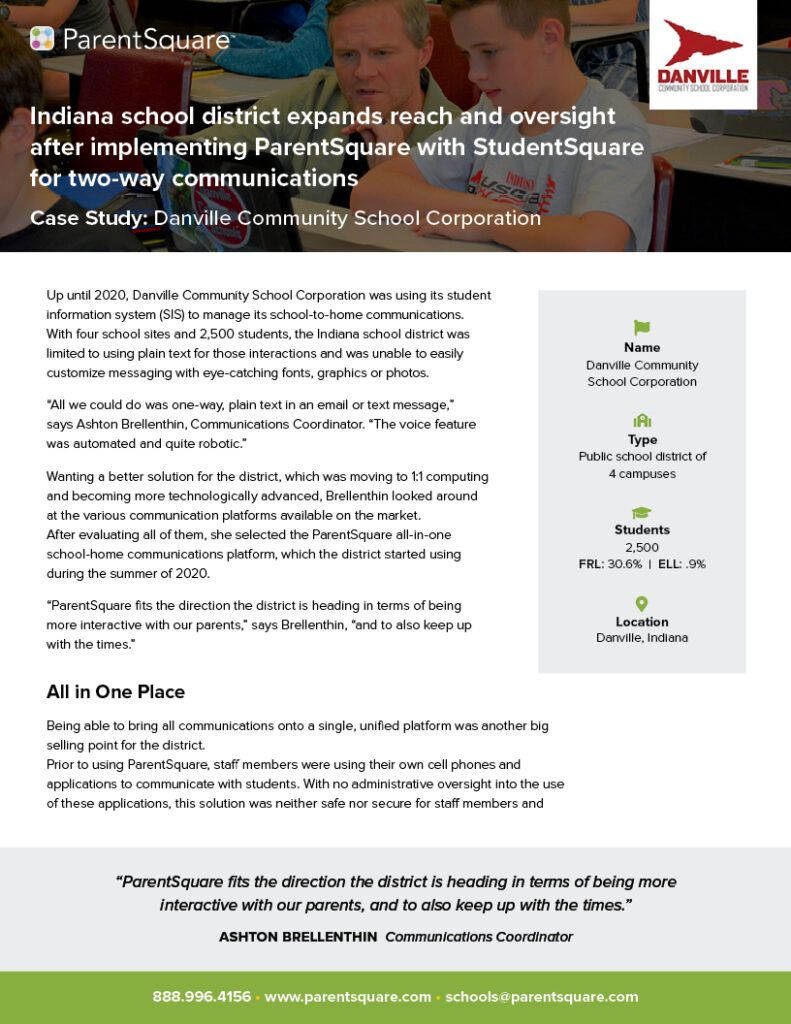 Enter your email address below to download a PDF of the case study.