New York District Uses Collaborative Communications to Rebuild Community Trust
Case Study: Mechanicville CSD (NY)
When Superintendent Bruce Potter joined Mechanicville City School District in July of 2019, he noticed that communications to students and their families were few and far between. He also noticed that communications between the upstate New York district and home only included input from select staff and weren't a collaborative effort. Instead of families receiving the entire story, they were only receiving the fragments the district wanted to convey.
Without a clear picture of what was really going on, there was a total disconnect with the community and lack of overall trust in the district. This culture spread among students, leaving them feeling like they too didn't have strong relationships with their teachers or school leaders.
With a new superintendent at the helm as well as a newly-onboarded Mechanicville Junior-Senior High School principal, Mike Mitchell, the district wanted to seize this critical opportunity and tackle these challenges to rebuild trust in its school community. 
Tackling Key Priorities
To get there, Mechanicville City School District needed to make clear, consistent, and transparent communications a priority so that they could build a vibrant school community with strong relationships. It also had to work through these challenges:
Need for Regular Communications.

District communications only came from those at the very top level, and they did not communicate very frequently. There was no consistent plan for district communications, which left parents uninformed about important matters. Parents wanted to receive honest and timely information, as well as feel like they were being heard. 

Lack of Trust.

When Mechanicville surveyed their students, approximately 80% of them said that they did not feel like there was an adult they could trust in the district. Similarly, it was clear that parents did not feel that the district was being honest about the decisions they were making. Mechanicville needed to address these trust concerns in order to build a connected school community.

Inconsistent Decisions

. A main concern of parents was that Mechanicville's district leaders seemed to always be changing their decisions. It was important for the district to have ways to gather feedback and collaborate with parents so that they could not only arrive at the best decisions, but also ensure that their decisions lasted.
Finding the Right Answer
By adopting ParentSquare's unified communications platform, Mechanicville could create exactly what it needed to bring the school community together—namely, a consistent communications plan that keeps school community members informed as well as allows them to voice their input. 
Today, the district regularly communicates with its school community in real-time, receives parent feedback, and connects with community members in meaningful ways. ParentSquare makes it easy for them to do this all in one place by helping  the district:
Maximize technology.

Rather than sending out long emails or newsletters with a lot of text, ParentSquare allows Mechanicville to upload

videos

every week with school and district updates. Parents can absorb a lot more information when they watch a quick video, and videos are also a more personal way for school and district leaders to communicate home.  
Create a two-way communications stream. Parents also needed a way to reach district and school leaders. ParentSquare provides

surveys

so that Mechanicville can gather feedback from parents, as well as

two-way communication

so that parents can communicate with the district and school in real-time.

Utilize multiple modes of communication.

Using ParentSquare's

Social Share

feature, designated ParentSquare administrators can share Mechanicville's ParentSquare posts directly to its website, Twitter, or Facebook accounts. This gives parents multiple places to find information, which is an improvement from previous, limited communications.

Confirm receipt.

With a strong communications plan in place, confirming that all families are receiving communications is critical. ParentSquare's powerful dashboards provide real-time insights and analytics, which allows Mechanicville to see who they are not reaching, so they can find alternative methods to connect with families. Additionally, Mechanicville can ensure contact data is accurate and up-to-date, so everyone has a chance to engage with important communications.

Address COVID-19 protocols.

Students and staff can fill out the

Health Screening Form

in the ParentSquare app, making an otherwise lengthy screening process more efficient, and helping the Mechanicville school community maintain compliance with state-specific and CDC-guidelines surrounding COVID-19.
"ParentSquare made it really easy for us to rebuild our communications process from scratch."

Bruce Potter
Superintendent
Measuring the Results
Mechanicville has successfully reached its reimagined vision statement for communication—
to provide consistent, transparent, purposeful, and timely communications to all school community members regarding district business with a special focus given to district goals
.
In fact, Bruce Potter, Mechanicville's superintendent, says, "ParentSquare made it really easy for us to rebuild our communications process from scratch." The district completely transformed its communications so that every family is now informed and engaged, resulting in a more unified school community with strong trust.
Where there was previously a disconnect between parents and Mechanicville City School District, the latter has created positive relationships with parents by treating them as informed partners in their student's education. According to recent surveys, parents are now much happier and overall morale is up. Parents are posting positive feedback on social media, noting how much positive improvement has taken place over the past two years.
During COVID-19, Mechanicville City School District united its school community and used parent surveys to ensure that—along with following CDC-recommended practices for COVID-19 safety—it was also prioritizing parental preferences whenever possible. 
Consistent communications have allowed the district to keep parents informed about protocols, safety guidelines, and changing learning scenarios. In addition, ParentSquare's Health Screening Form plays a critical role in helping them follow COVID-19-related safety guidelines to get students and staff back on campus.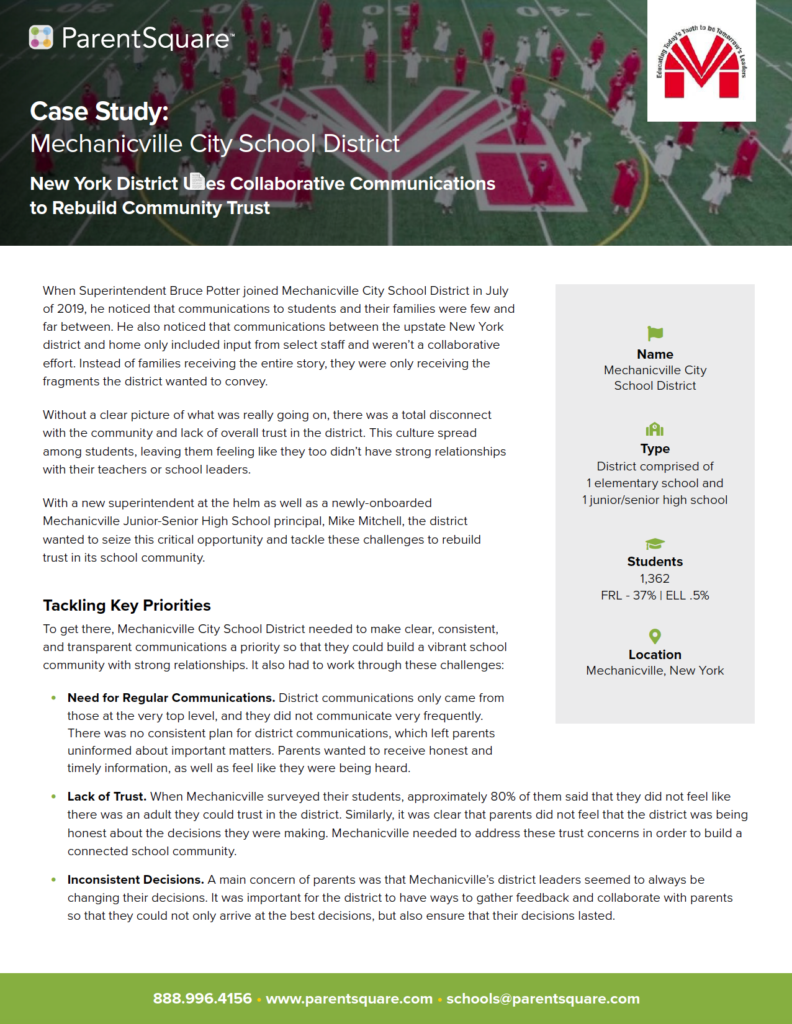 Enter your email address below to download a PDF of the case study.