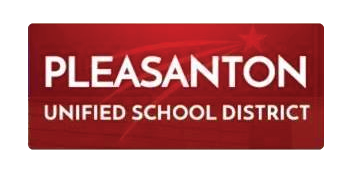 District Uses ParentSquare to Forge Bonds with its Schools and Off-Campus Community
Case Study: Pleasanton USD (CA)
Challenge
Principals and teachers across 16 different schools were using a mass notification system and myriad different one-way communication tools to stay in touch with parents, community members, and alumni.
Solution
The integrated ParentSquare platform with its new Community Groups feature to meet the evolving communication needs of all the district's internal and external audiences.
Results
A streamlined approach to school-home communications that allows all schools to engage in two-way communications, plus the added Community Groups connection that helps the district stay engaged with a broad group of geographically dispersed alumni.
When Patrick Gannon joined Pleasanton Unified School District in California in 2016, he inherited a mass notification system as a communications platform. "I noticed very quickly that [it was] primarily used by myself and principals to send out email or autodialers," said Gannon, Director of Communication. "It was all one-way communications that did not consider our stakeholders' preferences for receiving information."
With more than 14,000 students in 16 schools, the district had reached a point where it needed a two-way communications platform that would not only keep its close-knit community apprised of school happenings and events, but that would also encourage more interactions between parents, teachers, and administrators. 
Gannon knew that a unified school-home tool would also help the district aggregate all such exchanges
onto a single platform. "Parents were getting communication from multiple different sources and platforms, depending on which school their child was attending," he said. "I wanted to provide something that was helpful for more people."
The principals had their own mechanisms for sending emails, and that left Gannon in the dark about how many communication tools and platforms were in use that prevented the district from engaging with its community in a meaningful way. 
"Our teachers were using different communication tools because we hadn't given them anything to use to communicate more efficiently," said Gannon, who pointed to the global pandemic as yet another reason why the district needed a simplified and streamlined school-home communications platform. "As a parent myself, I was getting so much information from so many different directions at that point. It was difficult to manage."
Taking it Up a Notch
After researching its options, Pleasanton USD implemented ParentSquare's comprehensive school-home communications platform across all its schools in August 2021. As someone who likes to explore innovative uses of technology, Gannon went a step further and began using ParentSquare's Community Groups feature that became available soon after.
Community Groups allow interested community members to sign up for various communications offered by districts and schools. The web pages can be enabled at the district or school level, or both. With this feature, family and community members who aren't parents, guardians, students, or staff can sign up for communications in as many categories offered by the school or district as they desire.  
Gannon says the changing election process in California helped him sell his district superintendent on ParentSquare and Community Groups. "Like a lot of districts and cities in the state, we're transitioning to by-area elections which changes the way Pleasanton voters elect our board of trustees," Gannon explained. "It's not just a school district conversation, it's a community-wide conversation."
"It's not just a school district conversation, it's a community-wide conversation."

Patrick Gannon
Director of Communication
Bringing People Back
Using Community Groups, Pleasanton USD can also "bring people back" who want to stay connected to their schools regardless of where they're living or working. "We now have a platform where we can engage our alumni in meaningful ways," said Gannon. This is particularly important for a district that's graduated generations of families in a world where not everyone is using email anymore. 
"If we have their mobile phone numbers, we can send text messages to them via our Community Groups," said Gannon, who adds that the district is considering enlisting some of its famous alumni to record phone messages that will be used for further outreach. 
"While a lot of folks have stayed in Pleasanton, we also have a lot of people that are living across the country and around the globe. This gives us another tool for engaging a broader audience in a meaningful way."
Supporting Student Success
Students succeed when parents and families are more engaged in their children's education and ParentSquare provides an accessible way for families to do just that. "It gives parents the ability to choose what works best for them and that's what we want," Gannon said. "That's what we should strive for."
ParentSquare also helps make everyone's lives a little easier by making information more accessible. "That's really the best thing that we can do for families, especially in light of how much information is out there," said Gannon. "As a parent, I use the platform and my philosophy is that I wouldn't tell people to use something that I wouldn't use myself."
"As a parent, I use the platform and my philosophy is that I wouldn't tell people to use something that I wouldn't use myself."

Patrick Gannon
Director of Communication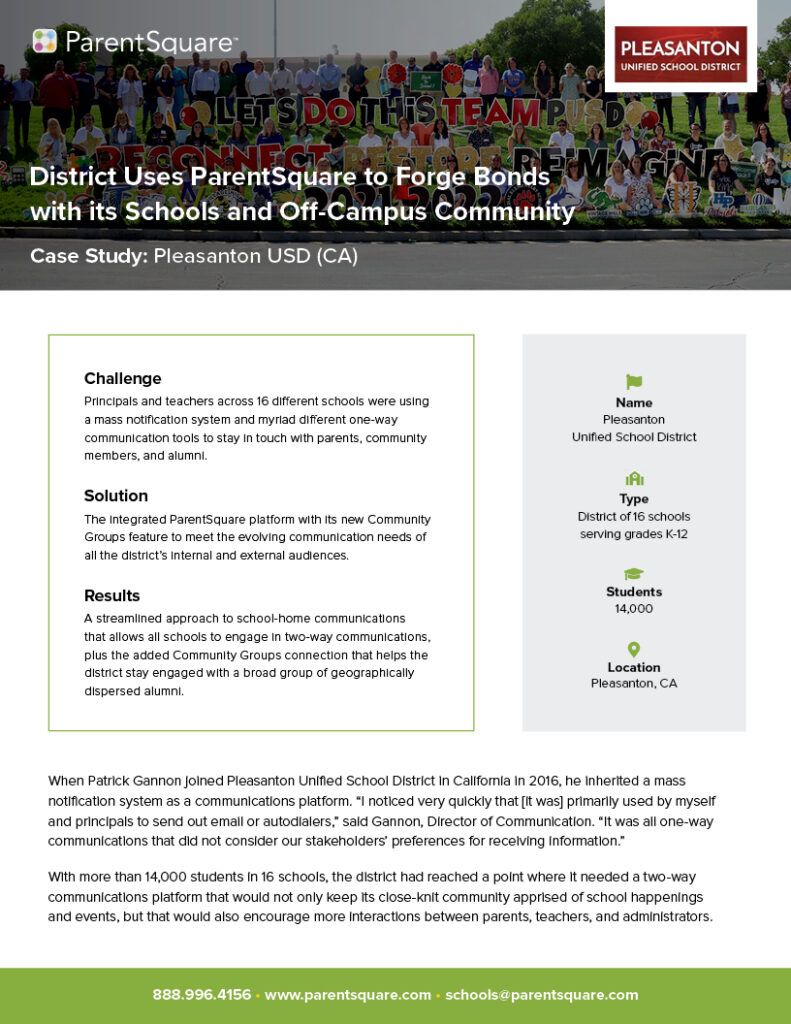 Enter your email address below to download a PDF of the case study.