K-12 Leaders Speak:
Humanizing Your District
Wednesday, March 29 @ 10am PT / 1pm ET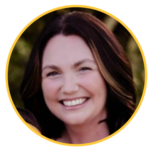 Nikki Henry
Chief Communications Officer
Fresno Unified School District
Please join us to hear from Nikki Henry, MPA, Chief Communications Officer at Fresno Unified School District! We're delighted to have her present and discuss 'Humanizing Your District,' which was one of the most popular sessions at CalSPRA recently.
Nikki will share real-life stories and examples, and provide actionable communication strategies you can implement today to humanize your district and build ambassadors of your students, staff, families and community.
Nikki writes, "The word 'district' doesn't usually conjure up warm, fuzzy feelings – rather the opposite usually. In such a divisive time, being seen as a faceless, nameless bureaucracy makes our school districts an easy focus for community frustration.
"Even in a large district like Fresno Unified, I know that isn't what we are, and I'm sure your district is not either. Instead, our districts are made up of staff who have dedicated their lives to bettering our communities, of students who have big, beautiful dreams for their futures, and families that want the absolute best for their children."