Third-party study by LearnPlatform by Instructure shows positive effects of school-level usage of ParentSquare on school-family relationships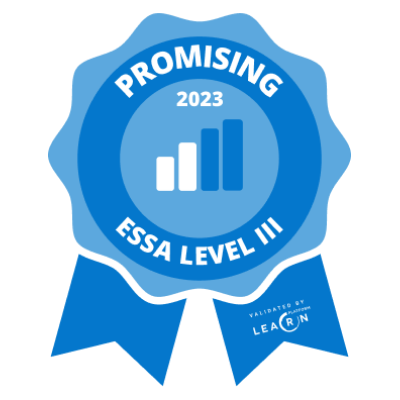 Santa Barbara, CA — Aug. 8, 2023 — ParentSquare, the award-winning unified school-home engagement platform for K-12 education, has earned Every Student Succeeds Act (ESSA) Level III certification, supported by "promising evidence" of its impact on school-family relationship outcomes.
"Family engagement has always been important to student learning and success, and it is even more critical now," ParentSquare President and Founder Anupama Vaid said. "With ParentSquare, educators can access an effective, evidence-based solution for family engagement that is backed by rigorous research. Satisfying the ESSA evidence requirements for Levels III and IV further validates the choice of more than 15,000 schools across the United States to implement ParentSquare."
ParentSquare contracted with LearnPlatform by Instructure, a third-party edtech research company, to create a well-designed and well-implemented ESSA Level III study. The correlational study, which was conducted during the 2022–23 school year, examined the relationship between school-level usage of ParentSquare and school-family relationships. The study found that sending posts and direct messages on ParentSquare produced statistically significant and positive effects on various school-family relationship outcomes.
Among the findings, the study showed that ParentSquare usage can positively affect school-family relationships, which is one facet of school climate. Specifically, elementary schools that sent out more posts on ParentSquare reported families being more caring toward administrators and friendlier toward their teachers. Similarly, the study found that elementary schools that sent out more direct messages on ParentSquare reported greater respect from parents toward administrators, families being friendlier toward teachers and greater trust that parents at their school treated administrators fairly.
ParentSquare is the only fully unified technology platform that engages every family with school communications and communications-based services—all the way from the district office to the classroom teacher, and all in one place. With ParentSquare's intuitive, two-way communications platform, district and school officials can involve all families and overcome language or socioeconomic barriers, while maintaining the highest standards of privacy and security.
In 2022, ParentSquare earned ESSA Level IV certification, validating that the platform "demonstrates a rationale" for improving student outcomes according to ESSA standards of evidence. ESSA requires federal funding and stimulus dollars to be used for "evidence-based interventions." The Level III certification not only ensures that ParentSquare is eligible for federal funding, but also provides evidence in support of its impact on educational outcomes.
About ParentSquare
ParentSquare is the leading provider of modern family and community engagement solutions for K-12 schools. Millions of educators and families in 49 states rely on the multipurpose unified platform that includes mass notifications, classroom communications, school websites, and other communication-based services, all supported by visual dashboards. ParentSquare's technology platform features comprehensive integrations with school administrative systems, translation to more than 100 languages, and app, email, text, voice, and web portal access for equitable communication. Founded in 2011, the company is headquartered in Santa Barbara, CA. Learn more at https://www.parentsquare.com.