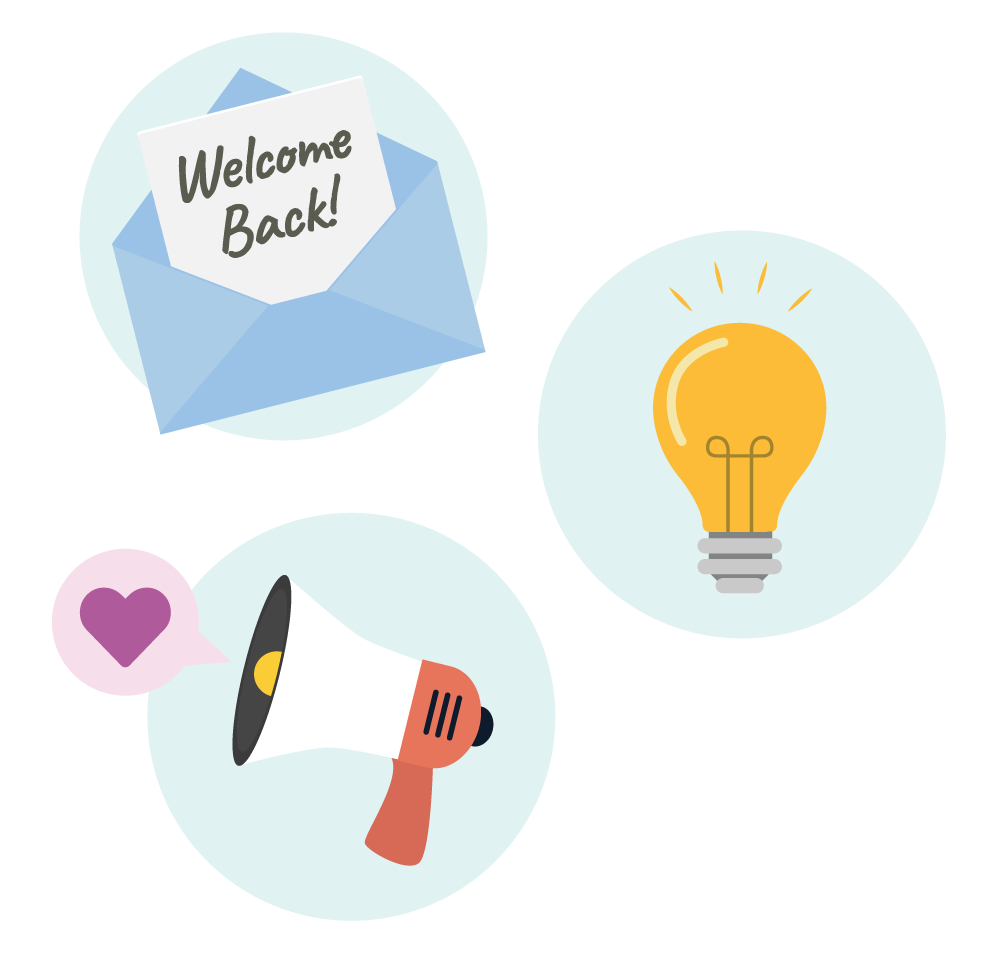 At the beginning of each new school year, one of a superintendent's primary responsibilities is to create a positive and supportive environment for their staff. Welcoming your team back to school with warmth and appreciation sets the stage for a successful year ahead. In this blog article, we will explore effective tips and strategies to help superintendents foster a sense of belonging, motivation and camaraderie among their dedicated staff members.
1. Personalized welcome messages
Kickstart the new school year by sending personalized welcome messages to each staff member. If your district is too large to make individual messages possible, we recommend sending them to each department or team. These messages can be delivered through your communications platform, email, handwritten notes, or in-person conversations. Acknowledge their contributions, express gratitude for their commitment, and share your enthusiasm for the upcoming year. Personalized messages show that you value and appreciate each individual's role within the school community

Sharing these messages through the ParentSquare platform gives you the opportunity to model positive messaging practices for your staff, and encourages the use of the platform itself. Administrative platform users at the district also have the ability to create welcome back templates for staff to use as they send back to school messages to families through ParentSquare.
Sample message:
Dear [Staff Member],
As we prepare to embark on another exciting school year, I wanted to take a moment to personally extend my warmest welcome back to you. Your dedication and contributions to our school community have not gone unnoticed, and I am truly grateful for your unwavering commitment to our students' success. Your tireless efforts and passion for education have made a significant impact on the lives of our students. Your ability to create a nurturing and engaging learning environment is truly admirable. Through your guidance, you have instilled a love for learning in our students, inspiring them to reach for the stars and achieve their full potential.
I am filled with excitement and optimism for the new school year that lies ahead. The possibilities are endless, and I am confident that together, we can continue to make a profound difference in the lives of our students. Your passion, creativity and expertise are invaluable assets that will undoubtedly contribute to another successful year.
Please know that you have my full support as we navigate the challenges and opportunities that the new school year may bring. I am here to provide any assistance you may need and to collaborate with you in fostering a vibrant and thriving learning environment.
Thank you once again for your exceptional contributions and unwavering dedication. Your commitment to our students' education is truly commendable, and I am honored to have you as part of our incredible team. Let us continue to inspire and empower our students to reach for greatness and make this new school year a memorable one.
Wishing you a joyful and successful year ahead!
Warm regards,
[Your Name]
School Superintendent
2. Organize a "welcome back" event
Plan a special "welcome back" event to create a positive and engaging atmosphere for your staff. This could be a breakfast or luncheon, where you provide an opportunity for socializing, reconnecting and celebrating the start of a new academic year. Consider incorporating team-building activities, icebreakers or guest speakers to inspire and motivate your staff members. The purpose is to foster positive relationships, enhance communication and build a supportive network among staff members. Team-building activities contribute to a more cohesive and productive work environment.
3. Set expectations for the school year
During the welcome back period, clearly communicate your expectations and goals for the school year. Share your vision, priorities and initiatives, ensuring that all staff members understand their role in achieving these objectives. By providing clear guidance and direction, you empower your staff to contribute effectively and align their efforts with the broader vision of the school district. Where possible, highlight the "why" while empowering them to come up with the "how."

After you've communicated expectations at your event, send staff a post in ParentSquare that also outlines commonly asked questions like severe weather protocols and shares frequently needed links like the school calendar. By sending this through ParentSquare, platform administrators can access it in their archive for easy sharing year to year.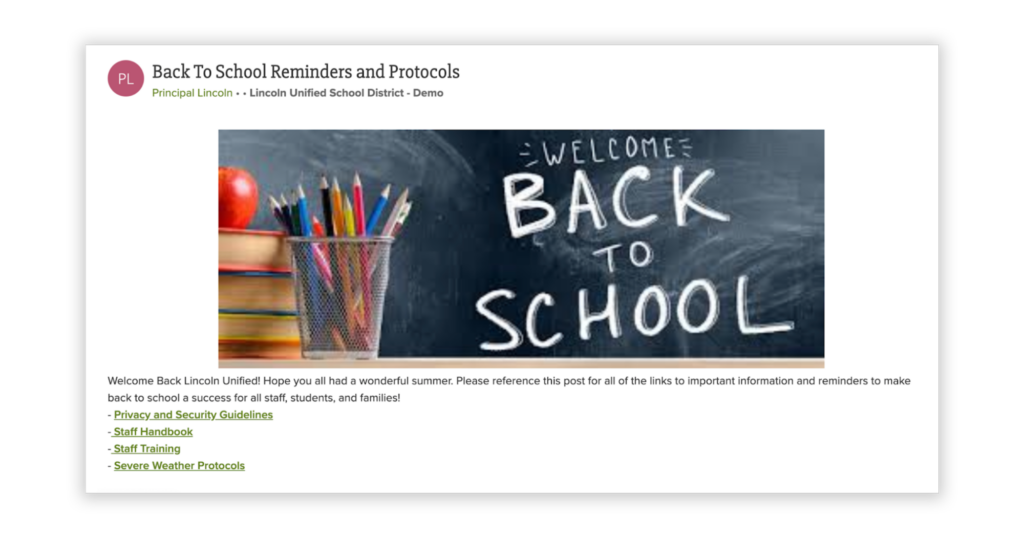 4. Provide professional development opportunities
Demonstrate your commitment to staff growth and development by offering a professional development opportunity during the back-to-school period. Arrange a guest speaker that focuses on relevant strategies in support of the expectations set for the year. If there is time, have follow up workshops at each school or grade level to further the discussion and learning. Investing in your staff's professional growth not only enhances their skills but also shows your dedication to their success. These investments lead to teacher retention as well.
5. Keep communication channels open
Create channels for staff to seek assistance or clarification, such as regular check-ins, mentoring programs or an open-door policy. Demonstrating your commitment to their success reinforces a sense of trust and confidence within the staff community. Hosting a superintendent's lunch at each building once a school year can be a great way to hear directly from your staff on what they need, where they are struggling and how they are succeeding. If providing an entire lunch isn't in the budget, encourage your staff to brown-bag it and provide beverages or desserts.
6. Celebrate achievements and milestones
Recognize and celebrate staff achievements and milestones as a way of showing appreciation. Highlight individual accomplishments, years of service or notable contributions through staff spotlights, newsletters or recognition events. Celebrating the successes of your staff members fosters a culture of recognition, boosting morale and inspiring others to strive for excellence.

Showcase your team by adding photos and videos to your communications! With ParentSquare, you can create engaging and visually appealing messaging that can be pushed to connected social media platforms in one easy click. Newsletters can also be created directly in the platform, so there are no email lists to keep track of or update and no coding to figure out.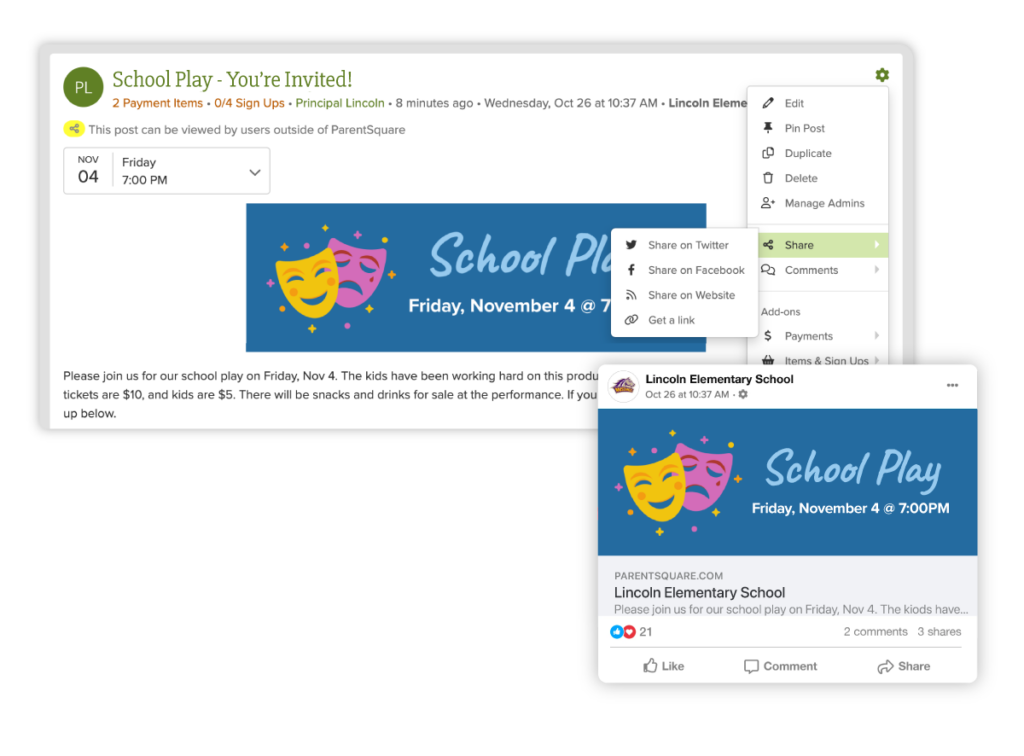 Welcoming your staff back to school with warmth and appreciation sets a positive tone for the upcoming academic year. By implementing these tips and strategies, you can create an inclusive and supportive environment that motivates your staff to excel. Remember, their dedication and hard work are the foundation of a successful school district. Together, you can inspire and empower your staff members to make a profound impact on the lives of students and the community.
What are superintendents saying about ParentSquare?
"ParentSquare has been a game changer for our school district! Communication options are now consolidated and can be tailored to fit the needs of both the sender and recipient. Add-on features such as forms, parent conference scheduling, health screening, and more quickly became go-to items to streamline our workflow, and we are only a few months into implementation. Parents, teachers, and administrators are raving about the ease of use and overall functionality. In short, ParentSquare rocks!"

​​Indian River Central School District Superintendent of Schools Troy Decker
---
ParentSquare is here to help you prepare for a successful school year. Learn more about these features and many more by booking a demo today!