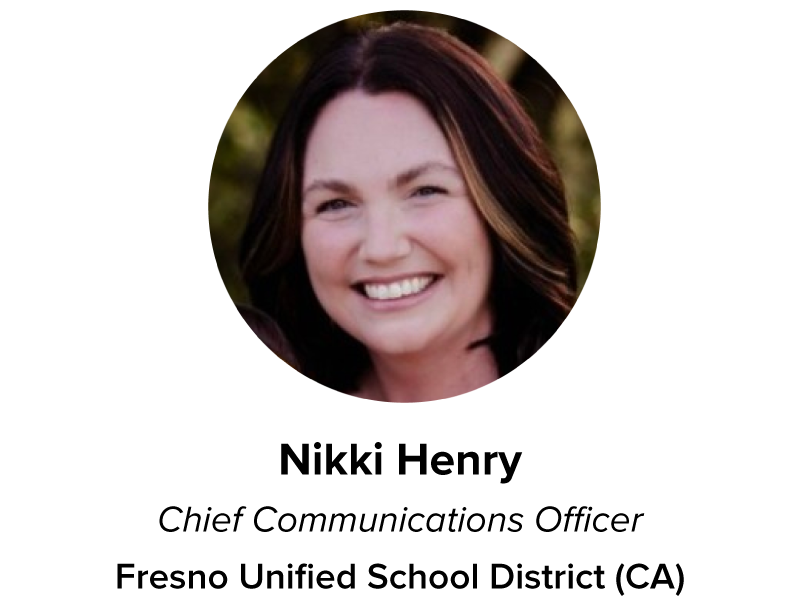 Students, families, and staff are often plugged-in at the school level, which keeps them engaged with communications and helps to build a positive reputation for their local schools. When it comes to the district level, however, communications can feel disconnected, with many students, staff, and families not knowing who the face is behind the social media posts and messages they receive from the district. If stakeholders don't recognize the people on the other side of the communications they receive, they are less likely to engage with district messages, no matter how important they are.
In our recent webinar, Nikki Henry, Chief Communications Officer at Fresno Unified School District (CA), shared how her communications team has humanized their district by giving all of their communications a name and face. Fresno Unified is a high-need district with only one in three students meeting or exceeding benchmarks in ELA, and only one in five for math. By developing a voice and a face for all district communications, the Fresno Unified communications team has managed to humanize the district, leading to eight in 10 parents being satisfied with district communications (and one in three being VERY satisfied!). Fresno Unified families also view the district as trustworthy, understandable, accurate, and timely––further highlighting the benefits of personalizing district communications.
Nikki noted that taking the extra steps to make your communications more familiar and approachable is truly effective because…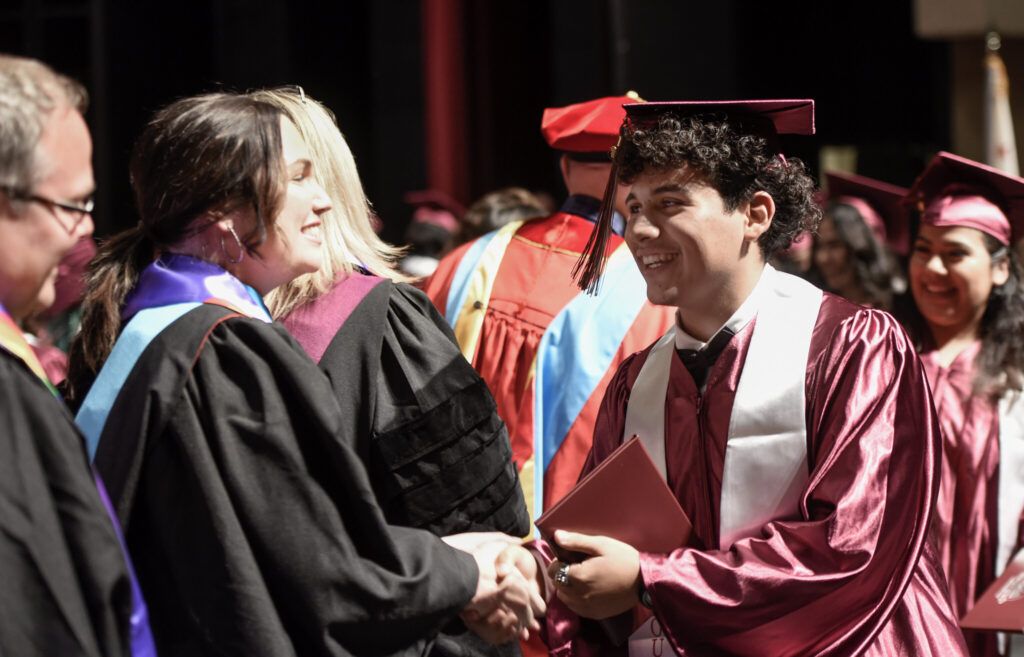 Engagement thrives on human relationships, which are built on trust, knowledge, and familiarity.
Student, family, and employee engagement all contribute to improved outcomes throughout the district.
Familiarity with leaders, teachers, and communications staff improves confidence in leadership and provides a sense of calm in a storm.
Without a clear and recognizable voice, negativity starts to fill the void.
Media partners are more likely to include a district perspective in stories when you have a strong voice.
Here are five strategies to personify your district communications and engage your community:
Post Daily Social Media Highlights
Consistent and relevant social media posts can help keep your district community informed and engaged. Use social media as a place to highlight each school and department throughout the year. Encourage schools and departments to create and provide the content, then the district communications team can develop a caption to tie in with district goals. Through these highlights, students, families, staff, and the community are able to see the people and places they know personally, increasing engagement and helping them feel more connected to the district as a whole.
Record Weekly Superintendent Messages
Every week or two, have your superintendent or deputy superintendent record a video message to be posted on social media and sent out to families districtwide. This is a great opportunity to highlight key messages, including celebrations and recognitions, as well as address any recent concerns or events occurring in the district. These video messages allow audiences to see and hear the personalities of district leaders regularly, building familiarity and trust.
"They have that engagement where they see your face and your personality and understand your passion. It's a time to be real, authentic, and transparent about tough things as well." – Fresno Unified School District Chief Communications Officer Nikki Henry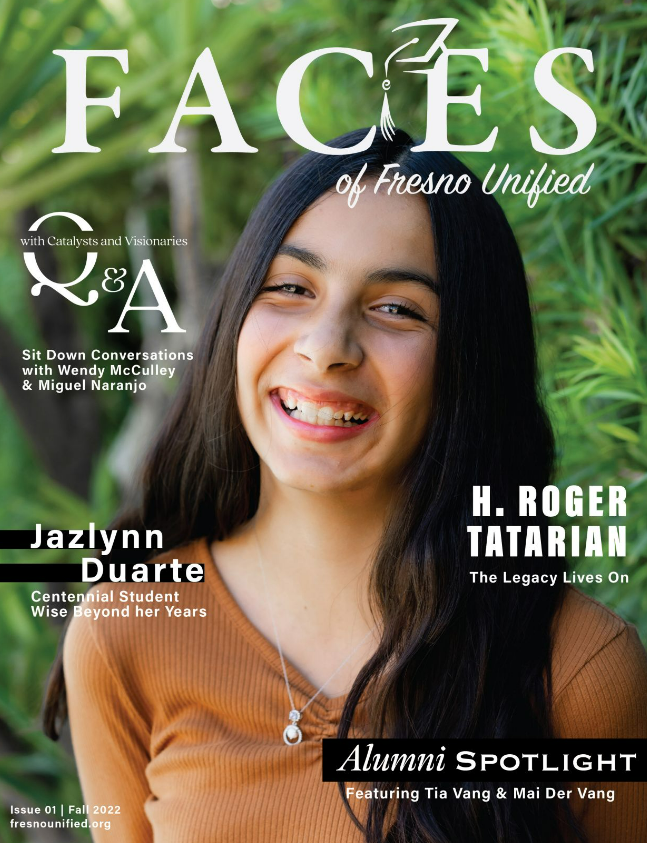 Create a Magazine or Other District Publication
A district magazine or newsletter provides an authentic, deep storytelling opportunity where you can repurpose a series of content and share evergreen content on a regular basis. Engage staff in the creation of each issue by asking them to make nominations for magazine features. Highlight students, teachers, leadership, and even alumni to keep readers engaged. Publishing your magazine digitally saves money and creates an opportunity to build a multimedia experience with links to videos and webpages. Your magazine or newsletter may even be able to fully fund itself through community partnerships and advertising opportunities.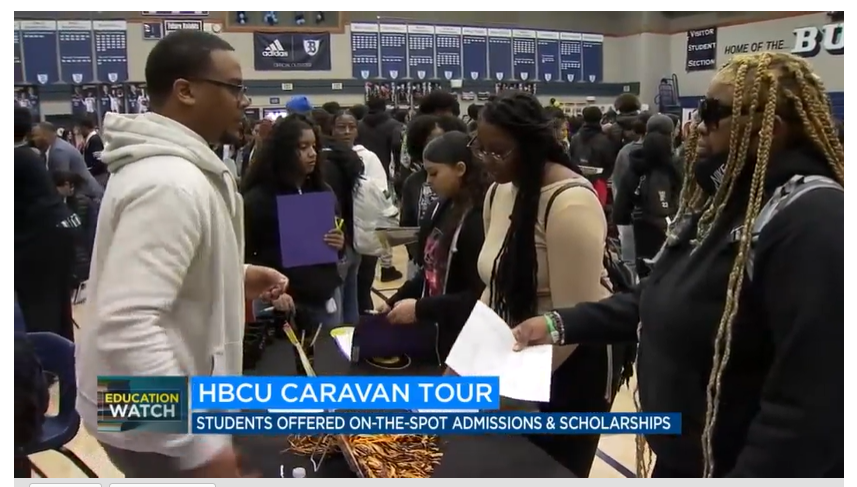 Maintain Consistent Local Media Relations
It's important to stay connected with local media, regularly pitching and providing positive stories to local news outlets. Using ParentSquare, survey families throughout the district to determine the news sources they prefer to watch to ensure your stories are reaching them at home. Build positive relationships with local media by providing interviews as often as you can and offer exclusives on tough subjects to provide balanced stories and share district perspectives.
Develop Audience Advisory Groups
Audience advisory groups are select groups of students, parents, and principals that can provide feedback and opinions on various district plans, communications, hot topics, and improving services in the district. Each of these groups enables you to better engage their demographic throughout the district, providing you with direct input from students, parents, and staff themselves. Student advisory groups are also an opportunity for students to grow valuable skills, engage directly with the superintendent, access learning opportunities with staff, and participate in a culminating group project.
"Having that relationship where they feel like they're being heard, you're able to really be responsive to your audiences and have them tell you what they need." – Fresno Unified School District Chief Communications Officer Nikki Henry
To see how Fresno Unified implemented these strategies and learn more about "humanizing" your own district, view the webinar recording here.